Songsmith LA is a full-service music and performance coaching school in Silver Lake / Los Feliz, Northeast Los Angeles, California. Director, Founder, and teacher Bobby Apperson has over 30 years experience as a musician, performer, writer, and teacher. Joining Bobby is a well-rounded roster of talent in guitar, piano, voice, songwriting, drums, bass, and brass! We teach songwriting, composition, production / mixing, singer-songwriters, new musicians, and music-lovers of all ages and skills, all over the Los Angeles area. www.songsmith.la/teachers Our music studio space is available for hourly rentals for piano, singing, and acoustic guitar rehearsals and recording as well as workshops, teaching, and writing.
Jake Faulkner
Guitar, Bass, Ukulele, Mandolin teacher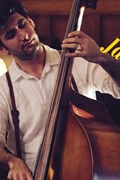 Jake is a working, gigging multi-instrumentalist and teaches guitar, bass guitar, upright bass, ukulele, mandolin, and beginner banjo at our Silver Lake music studio!
Bobby Apperson
Owner & Teacher; Pro Voice and Songwriting Coach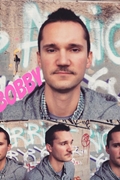 Bobby Apperson has 30 years experience as a teacher and performer. He's an avid songwriter, singer, and pianist, and has a degree in composition (piano principal, piano and voice focus) from UT-Austin. Bobby is also an avid Creativity Coach, helping artists, writers, and creatives find, hone, and explode their passion!
Justin Levinson
Piano, Voice, Guitar, & Songwriting at an Echo Park Studio with real and electronic pianos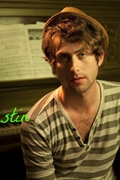 Justin teaches Piano, Voice, Guitar, Songwriting, Trumpet, and is based in Echo Park, northeast LA. A singer/songwriter from Burlington, Vermont and renowned for a catalog of songs covering everything from power-pop to country to "feel good heartbreak", Justin has earned steady praise from audiences and critics alike since his 2005 debut. Seven years and four acclaimed albums later, Justin maintains a solid presence. He is a Berklee College of Music alum.
Elizabeth
Voice Teacher & Beginning Piano, In-Home Lessons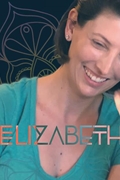 With a masters in voice, Elizabeth teaches and sings opera, choral music (very old to the very new), art songs, and music theater—and she can belt some Cher with the best of 'em! She has sung at the Metropolitan Opera, Lyric Opera of Chicago, and LA Opera in their respective choruses and other roles. "My 7 year old has been taking piano with Elizabeth this year. We feel like we hit the jackpot... a professional who is also fun, patient, and extremely experienced. The pace is just right."
Sam Lustig
Music Teacher & Jammer: Guitar, Piano, Bass & Drums, Los Feliz - In-Home Lessons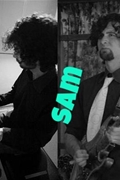 Sam has been teaching lessons in the Los Angeles area in Guitar, Piano, Bass, and Drums for 15 years as well as working professionally as a multi-instrumentalist and freelance producer, composer and arranger. He holds a BFA in Composition from the California Institute of the Arts and has worked in Arts education for the L.A. Philharmonic, 24th Street Theatre, and CalArts, among others.
2207 Hyperion Ave, Los Angeles CA 90027
213-259-9679
Monday

Tuesday

Wednesday

Thursday

Friday

Saturday

11:00am - 6:00pm

11:00am - 6:00pm

11:00am - 6:00pm

11:00am - 6:00pm

11:00am - 6:00pm

10:00am - 5:00pm
1330 Lemoyne St, Los Angeles, CA 90026
(802) 989-1851
Tuesday

Wednesday

Thursday

Friday

Saturday

9:00am - 1:30pm

9:00am - 1:30pm

9:00am - 1:30pm

9:00am - 1:30pm

2:15pm - 6:00pm
Your LA Home In-Person or Online!
FaceTime, Skype, Messenger, or Your Home
Monday

Tuesday

Wednesday

Thursday

Friday

Saturday

Sunday

10:00am - 7:00pm

10:00am - 7:00pm

10:00am - 7:00pm

10:00am - 7:00pm

10:00am - 7:00pm

10:00am - 7:00pm

10:00am - 5:00pm